Beastbone, Kempre. The State of Animal Magic.
       Fig's Tavern basked in the evening torchlight from the well trodden dirt road in front of it. The thick forests of Kempre leaned over the thoroughfare, and the dozens of men and women that traversed it nearly all had various animal bonds at their sides.
       Hawks and parrots flew through the dark emerald canopy, occasionally slicing through scattered moonlight between large knotted branches. On the ground, creatures large and small scampered about as people talked with one another, catching up and sharing stories from their day.
       Several patrons of the tavern leaned against the property's fence-line, choosing to grab some fresh air after procuring their most recent round of drinks. Of the many problems that came with being a popular place in Beastbone, the unending smell of a barnyard was certainly near the top for most patrons.
       Fig's was without a doubt the center of attention along this path down Beastbone's outskirts, which was well known as one of the most ruthless places in all of Kempre. With over half of the population being Coreborne, it's not exactly a place you'd want to find yourself in a fight as a traveler; because odds are you'd be battling more than just one beast.
       The tavern sprawled from the base of a storied Oak tree and climbed upwards, jutting out sporadically like wooden barnacles on their way up the cavernous trunk. High in the air, people were lounging on the edges of odd angled windows warped by sloshed wines, humidity, and heavy asses; human and otherwise.
       Inside, Fig's was busy, as it always was in the evening after the fighting pits closed down. The board paneled rooms all had the same golden glow from the many candles and torches along the walls, and any edge you could find was already worn soft five years ago. Clusters of people sat together drinking from misshapen wooden mugs, nearly all of them Coreborne, which meant that animals of all sorts filled every nook and cranny that a human didn't. Predators and grazers sat together underneath heavy tables; most friendly, some less so.
       Lyhew, a teenage boy with a welcoming face and long chestnut hair came down a slanted flight of steps. He toted an armful of empty mugs, which despite his best efforts, always left their mark on his white shirt.
       Halfway down the rickety set he stopped at a small window cubby which was occupied by an observably portly chipmunk. Lyhew slowly took a few of  the empty mugs from his arms and set them along the hand rail. With one of his free hands, he dug into one of his pockets and pulled out a small but colorful nut.
       "Here ya go, Little Fella." Lyhew said softly, handing the nut to the creature, who took it casually. "Don't want ya to starve, now do we?"
The chipmunk slowly ate the nut, staring at the main entrance into Fig's. Lyhew noticed its gaze, his handsome smile fading a bit. He looked over to the door as well.
       "I know. I miss her too." Lyhew said as the curved door opened. The chipmunk paused for a moment, only resuming to eat when a hooded traveler in a musty gray cloak walked through; another thirsty patron. Lyhew looked back at Little Fella, who was almost finished with the nut already.
       "Ya know…I think I saw a basket of Topleaf blossoms in the back. I'll go sneak one out for ya. Fig won't mind one bit." Lyhew said quietly to the chipmunk gently scratching it behind its ears before gathering up the empty mugs he'd set on the rail.
       "Ales up!" A bellowing voice rang through the room. Lyhew looked towards the bar as the call dissipated through the drinker's din. Fig had a fresh round of drinks ready, with several people cheering her way at the fact. She whipped around, grabbing a barrel the size of a boar from the wall and heaving it up onto the bar as she looked at the painted writing on the grainy staves. "Next barrel's from Fourbent! Something called Swig of Starfall!" Fig finished.
       "About fucking time!" Yelled Burl, a stocky man with a thick neck that looked like a bicep. He sat with three others at a table in one of the corners. Lyhew heard the loud disdain and knew he shouldn't waste much more time.
       "Back in a bit, Little Fella." Lyhew said, bobbling down the stairs towards the bar, eventually reaching Fig and the fresh rounds.
Fig wore her usual green top, representing the colors of Kempre. Her piercing eyes flitted around the bar, noting how many mugs she was about to refill and hoping it was a smaller number than the fights she would have to stop. "Better hurry up. Burl's on a tear tonight." She said as Lyhew dumped the empty mugs he was carrying, replacing them with as many fresh ones as he could hold.
       "I'll risk a fat chipmunk's happiness over Burl's any day." Lyhew replied.
       "Yeah, well I'll have to advise that you shouldn't mention anything of the sort." Fig ended as Lyhew grabbed one last mug, heading towards Burl's table.
       "Who, me? I'd never do anything like that." Lyhew smirked, trailing off into the crowded tavern, handing out mugs as he zigged and zagged between conversations and camaraderie. Burl noticed his approach, visibly bugged that Lyhew didn't serve them first.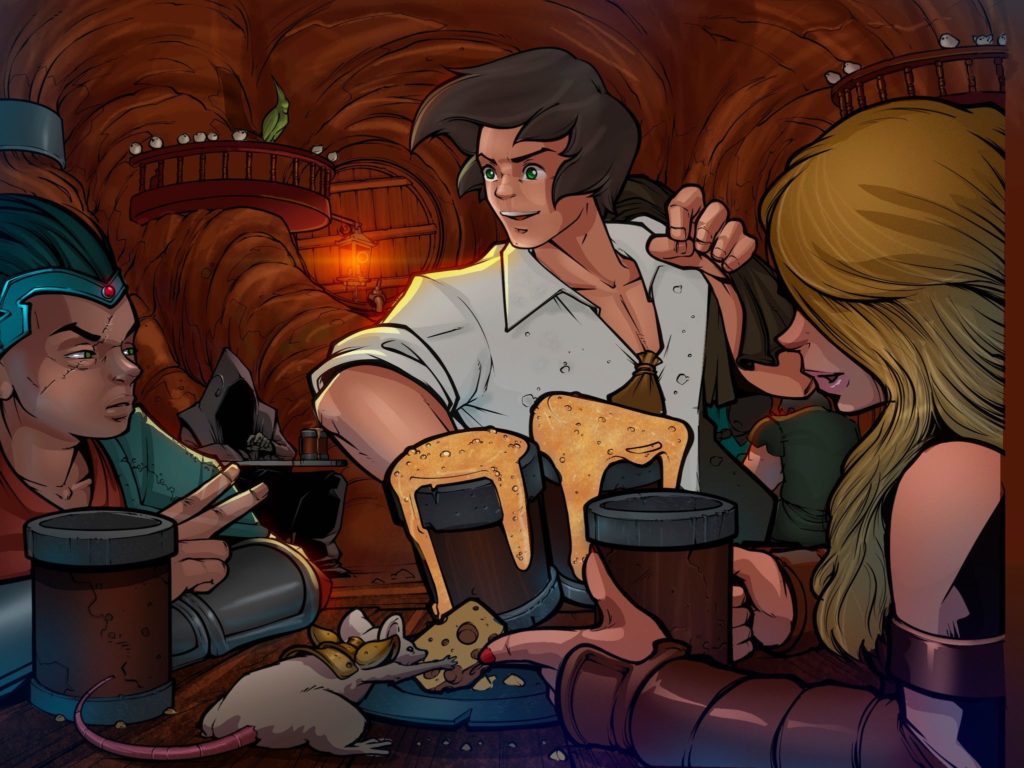 "Fucking finally." Burl exhausted. His tablemates quickly shoving their empty mugs in Lyhew's direction.
       "Don't worry, everyone. I've got full mugs from our freshest barrel, ready to drink!" Lyhew said, exchanging the fulls for empties as Burl's wildcat growled underneath the table. Burl reached down with his thick arms to scratch the massive cat's ears.
       "I know, Kerreta. He would've gotten us drinks faster if his bond was helping him." Burl said, hunching. "Where's your bond, boy…and why aren't they helping you?"
Lyhew handed out the last full beverage to a man who smelled like freshly dug dirt with a marmot on his shoulder as Burl stared him down.
"I don't have one, yet." Lyhew responded.
       "Yet? What do you mean yet?" Burl asked, almost laughing. "You may be a boy, but you're no child, and if you haven't bonded yet, you aren't going to."
       Lyhew stood up straight and looked Burl in his eyes. "You're wrong. I know I'll bond. I can feel it."
Burl stood up, immediately more imposing than he previously seemed. "I'm wrong, huh? Well isn't that something. What do you feel, fellas?" Burl asked his tabled crew. "Think I'm wrong…or think this little barback's just weak?"
       Lyhew didn't wait to hear what Burl's cronies thought of him. "I'm not weak." Lyhew spat, his chest out. Fig's flitting eyes stopped for once, resting casually on the interaction between the two.
       Burl stepped up to Lyhew, who remained standing firm on his ground. "You can't even bond with a fucking rodent, and I've seen you trying, too. How about we see how weak you really are."
       Lyhew stood unflinching, about to launch into a retort when Burl snapped his long leg directly into Lyhew's chest in a blink, sending him flying into a pile of empty boxes and hay bales that were stashed against a nearby wall. Burl headed towards Lyhew, who slowly raised from the crushed boxes, clutching his stomach and breathing heavily as he recuperated.
       "You see? Weak, unbonded, and powerless." Burl stated with almost every eye in the room on him and Lyhew. "While you were washing out mugs all day, I was fighting, and winning. Thousands of people screamed my name and it isn't because they needed a refill."
       Burl grabbed Lyhew by his shirt front and lifted him into the air one handed. Lyhew came to, a bit groggy still from the blow to his chest. "So you finally got your first victory in the pits, huh." Lyhew exhaled, smirking slightly again as a trickle of blood dripped down through his hairline.
       "First of many…" Burl snarled. "…and more than you'll ever get." Burl cocked his fist back. "Here, let me help. I'll start your journey off right now and hand you your first loss to a real pit fighter." Burl's fist compacted, thick bones and veins contorting under the pressure.
       "Burl!" Fig yelled from the bar as the many eyes of the room shifted her way. "Leave 'em alone."
Burl wheeled on the spot, locating Fig behind the bar. "Yeah? What are you gonna do about it?" Burl questioned as he dropped Lyhew back into the crushed boxes. Kerreta jumped up from the ground onto the table and stretched her front legs, razored claws digging deep iinto the soft wood.
       Fig was pouring a large shot of spirit for a man at the bar, but took it for herself as the confrontation brewed. "Whatever the fuck I want." She said.


       Fig's bond, a Widehorned Ox, got up from the ground behind the bar, its deadly spikes narrowly missing several drinks and bottles sitting on the thick wooden countertop. Fig grabbed one of the bottles, turning it upside down and draining the rest of its contents. She smiled as she wiped the leftover liquids from her grin. The ox sidled up beside her, licking some previously spilled spirits from the bar.
       Kerreta looked at the beast and softly sat down on her hind legs, starting to lick a paw clean. Clearly not interested in fighting a beast 20 times her weight. Burl, noticing that he was the only person on his own side, grabbed his chair and sat back down as well. "Fine, enjoy it then."
       Lyhew finally got up from the boxes on his own. He could see Fig grabbing a bottle of his favorite liquor, Highroot Shine, from the wall as he slowly steadied his swaying.
       "Everyone! Next rounds on Burl!" Fig yelled to the room.
       Burl scowled at Fig momentarily as people began to cheer, giving in a moment later once he realized that he had no other choice but to pay up for the evening. "Very well. A worthy use for my winnings tonight!" Burl said, standing up once more and raising his full mug. "For Kempre, and the true beasts of Ismet!"
       Dozens of men and women yelled in agreeance throughout the room, all raising their drinks, draining them to be ready for their incoming refills. Lyhew locked eyes with Burl as he raised his drink, unwavering. Burl paid him no more mind than a fly on the wall. Fig, however, had other plans for Lyhew's time. She had already lined out twenty or so small glasses and was filling them with a jade colored liquid. "Lyhew! People are thirsty! Come and get these drinks out, now!"
       "Coming!" Lyhew shouted as he snapped out of his stare. Fig was just about done pouring each of the fresh drinks. Thankfully he knew one was his, and Fig would make sure it was the largest pour.
       Next chapter coming soon. We will be returning to Moa…